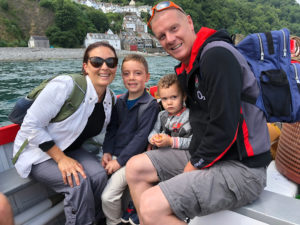 I live in the North of Malta with my husband Paul, my two sons Luke and Liam, Pierrot, my cat and Rain, a springer spaniel I rescued a while back. Family is my priority however the unconditional support of my husband and parents permit me to continue growing in all my endeavors.
Besides my acting and TV presenting and producing, I enjoy a healthy way of life which starts from the choice of food I eat, the homeopathic remedies with which I treat and cure my ailments and extend to my practice of yoga, a discipline I have grown in since my early twenties. In 2010 I became a fully qualified Yoga instructor under Yogacharya Krishan Verma, Badantogast, Germany.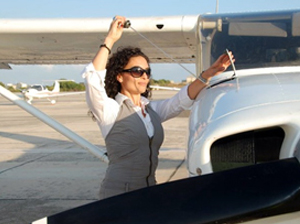 Since a young age all that I dreamed about was becoming a pilot!  And not just any pilot… I imagined herself flying aerobatic jets and since as far as I can remember, did not miss one Airshow to which herfather use to take my on a yearly basis. Although this career did not materialise, I never lost my passion for flying and in August 2009, I completed my studies and proudly earned my wings with the Malta School of Flying.
I have grown my business aptitude through the years and besides my TV productions, I opened my own Healing Chinese Massage clinic in 2008, an extension of my philosophy on well-being to make use of all natural and traditional methods of healing. This led to a Healing Hair, Nail & Beauty Salon at the Park Hotel which opened in 2014.
I was born on Thursday the 18th of September 1975 at 10am! I was born as red as an apple with black curly hair, as my mother describes me. The British doctor who delivered me took one look at my feet and exclaimed "She'll be a tall girl one day!" No one knows what went wrong, as ever since the age of 12 I remained stuck at 5ft 1.5 inches with a foot size number 36! I have pretty much remained a size 8 since my late teens and if my younger sister does not force me to throw out old clothes, I could easily turn out to be a hoarder as I loves hanging on to old pieces of clothing, shoes and accessories. Having said that, I have a keen eye for quality classic garments and opt to buy those special pieces that can withstand the test of time and fashion.
As a child I was rather reserved and spent most of my time being creative, reading, daydreaming and most of all observing people, surroundings, smells and energies. When I did play with friends and brothers though, my vibrant energy, sense of adventure and love for life came out. On one hand I can knock one out with my energy whilst on the other, I'm a very calm, balanced person and this comes out mostly in difficult times. So yes you can say I'm an extremist, enjoying the ends of both spectra.
A distinctive feature in my life is my zest for traveling and discovering remote and distant parts of the world, their cultures and diversity. At the age of 4 I was on my way to America and Canada with my parents and since then I have visited more than 20 countries with the highlights being Peru, Kenya, Zanzibar, India, Australia, the Greek Islands and the Sahara Desert. Later on I started discovering Europe where I travelled extensively both for work and leisure. I have recently taken a liking for skiing and I'm committed to make a yearly trip out of it with my extended family. I am also a diving enthusiast and find time spent in nature to be one of the most rewarding pleasures in life.